Ottawa's source for Soma frames, parts & accessories: Tall Tree Cycles!
A bike made with Soma is practical, durable, comfortable and affordable. … these are the primary forces shaping the company's ideology … and it's approach to making 'real' products aimed at the everyday cyclist.
"We don't mean 'everyday' like something 'commonplace,' 'unremarkable,'" says Soma on its website. "We mean the person that gets out and rides everyday or almost everyday - Using their bike for commuting, for work, for errands, for fitness, or just for the joy of riding."
A roomy riser bar with about 25° of backsweep for a natural wrist position. Offers comfort without sacrificing hardly any control. Dream Cycle Vancouver helped us design this model. They wanted to replicate something close to bars found on MTB bikes of the early 80's. Recommended for bikepacking and touring.
Soma works with local bike shops, similar to Tall Tree - and listen to ideas pitched their way. That results in innovations - like a better tire lever, water bottles that don't taste like plastic, and steel frames that have people smiling from the commute to the singletrack.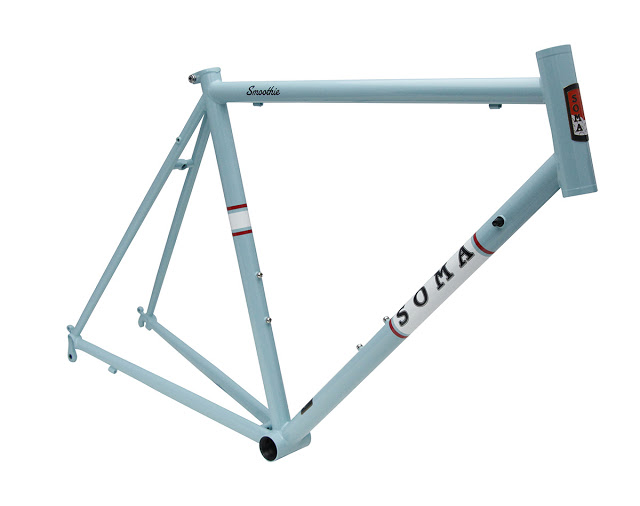 Soma's Smoothie Road frame got a classic baby blue that you may not think of as classic. But it has been
used on custom hardtails to Look carbon road frames. They call it 'Baja Blue.'
Fun is not complicated. Why should their frames be? Soma doesn't do "weird geometries," just what they'd want to ride. As for colours and graphics, Soma makes a conscious choice to avoid "race-inspired" billboard-style logos. They say this makes it "easier for folks to cover them up with stickers and chewing gum.